Lendomy Lenalidomide Capsule 10 Mg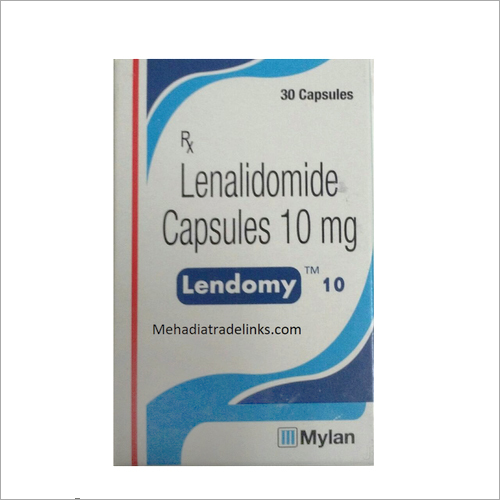 Lendomy Lenalidomide Capsule 10 Mg
Price And Quantity
Product Specifications
General Medicines

Capsules
As per doctor advice

Dry and cool place
Product Description
A prescription drug called Lendomy (Lenalidomide Capsule 10mg) is used to treat a number of malignancies and other diseases. Lenalidomide is an immunomodulatory substance that inhibits the proliferation of cancer cells and aids in immune system regulation. Multiple myeloma, myelodysplastic syndromes, and mantle cell lymphoma are all suggested for lendomy. Taken orally, the capsules are typically taken once daily with water. Low blood cell counts, tiredness, and nausea are typical adverse symptoms that may occur. Serious adverse effects with lenalidomide can include blood clots, birth abnormalities, and extremely bad skin responses. Healthcare providers should regularly monitor patients, and due to teratogenic effects, women of reproductive potential must follow a stringent pregnancy prevention programme.
Lendomy (Lenalidomide Capsule 10mg) has the following properties and advantages:
Features:
1. Lenalidomide, an immunomodulatory medication that alters the body's immunological response to aid in the battle against cancer cells, is an ingredient in Lendomy.
2. Lendomy is a versatile therapy option for these particular cancer types and is approved for the treatment of multiple myeloma, myelodysplastic syndromes, and mantle cell lymphoma.
3. Oral administration: Because the capsules are taken orally, administering them at home is convenient and simple.
4. Lendomy is normally used once day, which simplifies the dosage schedule for patients.
Benefits:
1. Lenalidomide aids in the reduction of cancer cell growth and survival, which suppresses the development of tumours.
2. Lendomy has been found to boost treatment response and overall survival rates in some cancer types when administered in combination with other drugs or therapies.
3. Enhanced immunological response: Lenalidomide's immunomodulatory characteristics can improve the immune system's capacity to recognise and combat cancer cells.
4. Management of myelodysplastic syndromes: By enhancing blood cell production, lentomy is advantageous for patients with myelodysplastic syndromes, a type of bone marrow abnormalities.
5. Lendomy may help some patients achieve sustained periods of remission or disease control, which can improve their quality of life.
6. Lendomy may be used as maintenance therapy in some cancer instances to stop the disease from relapsing after first treatment.
7. Reduced need for intrusive treatments: In some circumstances, Lendomy-successful treatment may reduce the need for invasive procedures like bone marrow transplants.
It is crucial to keep in mind that while Lendomy has shown effective in treating certain tumours and diseases, there are also potential hazards and adverse effects. During treatment, patients should be regularly watched by medical personnel, and any alarming symptoms should be reported right away for the proper management. Treatment choices should be discussed with oncologists or other medical professionals skilled in treating certain types of cancer. Furthermore, for women who are capable of becoming pregnant, stringent pregnancy prevention measures must be taken due to its teratogenic effects.
Lendomy (lenalidomide capsule, 10 mg) uses include:
1. Plasma cells in the bone marrow are affected by the cancer multiple myeloma, which is treated with lendomy in combination with other drugs.
2. It is recommended for those who have particular myelodysplastic syndromes (MDS), a class of diseases marked by faulty blood cell synthesis in the bone marrow.
3. Mantle Cell Lymphoma: Mantle cell lymphoma, a non-Hodgkin's lymphoma that affects lymphocytes, is treated with lendomy.
Lendomy (Lenalidomide Capsule 10mg) side effects include:
1. Patients may feel weary or weak due to fatigue.
2. Vomiting and nausea: Lendomy can result in these gastrointestinal problems.
3. Changes in bowel habits might occur in certain people due to diarrhoea or constipation.
4. Low red blood cell, white blood cell, and platelet counts: Lenalidomide may cause a drop in these blood components, raising the risk of anaemia, infections, and bleeding.
5. Rash or skin responses: Rashes and other skin reactions are possible.
6. Peripheral neuropathy: Some patients may have tingling or numbness in their hands and feet, along with other nerve-related symptoms.
7. Deep vein thrombosis (DVT) and pulmonary embolism are two thromboembolic events that are at increased risk with lenalidomide.
8. Lendomy is extremely teratogenic, which means it can result in serious birth abnormalities. As a result, pregnant women must adhere to strict pregnancy prevention guidelines.
9. During the first phase of treatment, patients may occasionally experience a brief worsening of their tumour symptoms.
10. Rarely, Lendomy may result with liver issues and elevated liver enzyme levels.
During Lendomy treatment, patients should be closely watched by medical personnel. Serious adverse effects from the medicine are possible, thus any worrisome symptoms need to be brought to the attention of the doctor very once. During treatment and for a specific amount of time after, women who are capable of becoming pregnant must follow a strict pregnancy prevention programme. Lendomy's advantages in treating particular cancers should be carefully considered against its potential drawbacks in each situation.
Trade Information
Cash Advance (CA)

10000 Per Month
1 Week

Asia Australia Central America North America South America Eastern Europe Western Europe Middle East Africa